Hidden By The Dark - SIGNED PAPERBACK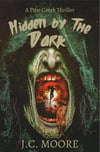 Something terrifying has awakened in the mountains…
A sheriff and his deputy investigate several brutal murders in a coal mining community where fear and terror have struck. As the investigation continues, they piece together a shocking and terrifying puzzle that leads him to believe that the murders may be the work of a serial killer.
Or is it someone from out of town? Or worse yet, is there something even more sinister?
The murders seem to have no pattern or motive, leaving them struggling to find answers. With time running out, the sheriff must find the killer before he strikes again.
This book is the first in the Pine Creek Thriller series.